Trip Reviews is an extension for WP Travel Engine that allows a tour operator or a travel agency to add authentic trip reviews onto their website.
Trip Reviews requires WP Travel Engine plugin installed.
Installation #
To install Trip Reviews Extension:
Download the extension from your dashboard

Upload the folder to your /wp-content/plugins/ directory

Activate '

WP Travel Engine – Trip Reviews

' from the Plugins menu within WordPress
License key #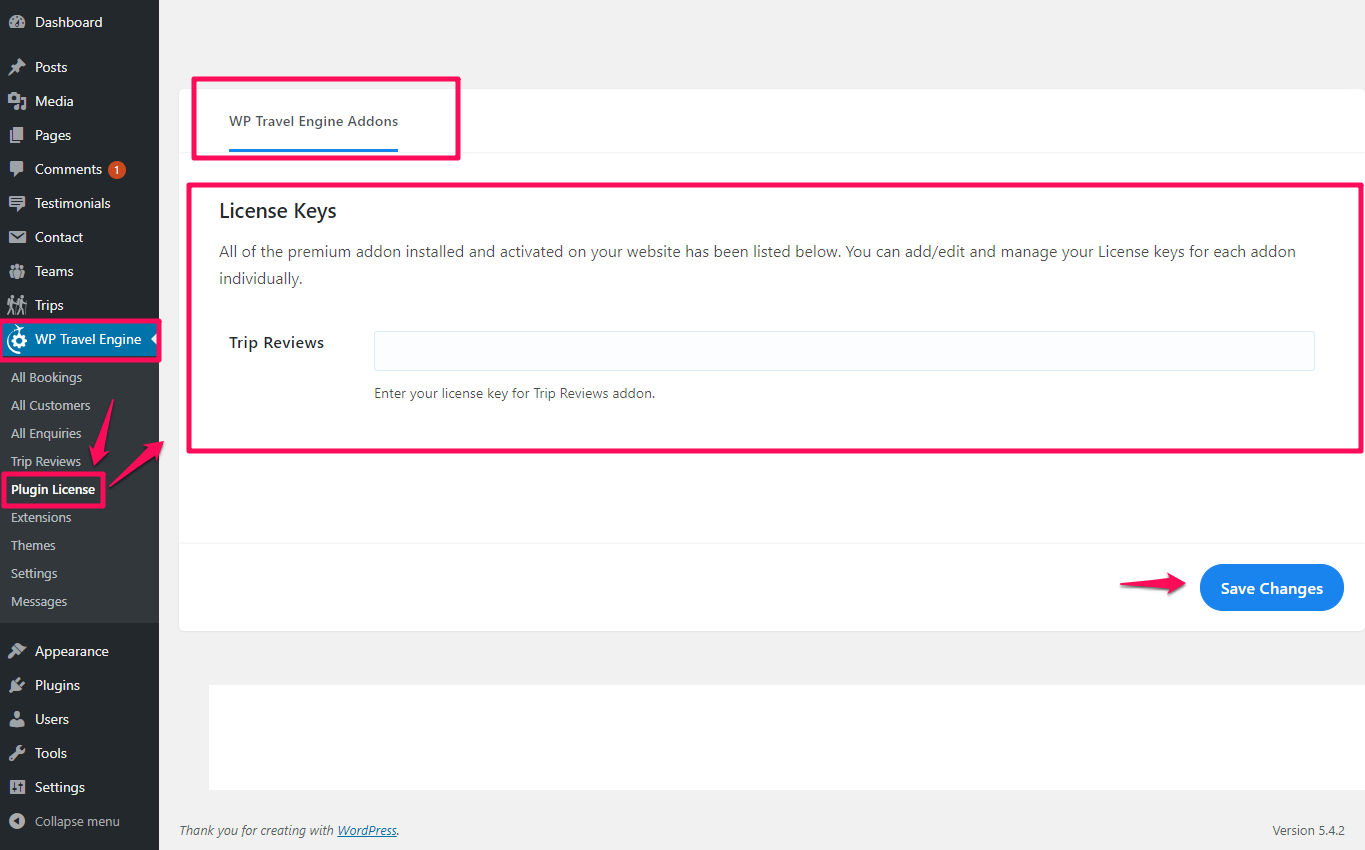 How it Works? #
Trip Reviews extension adds a Trip Reviews sub-menu and a Review Tab on activation. Travel agency or tour operators (admins) can add reviews from both the Trip Reviews sub-menu and Review Tab, while travelers (users) can add reviews to the individual trips from the Review Tab in the frontend. Admin can later approve or unapproved the reviews.
You can also list all the reviews in tabs or trip content using the shortcode – [Wte_Trip_Review_List]
Trip Reviews helps you get more trip bookings with social proof. It calculates the average ratings for a trip based on the total number of reviews.
Trip Reviews is SEO optimized. The reviews rich snippet is shown in search engines which increases Click Through Rate (CTR), and therefore, helps to improve search engine ranking. It also encourages your travelers to leave reviews and in turn increase conversion of your travel agency.
Configure the Global Setting #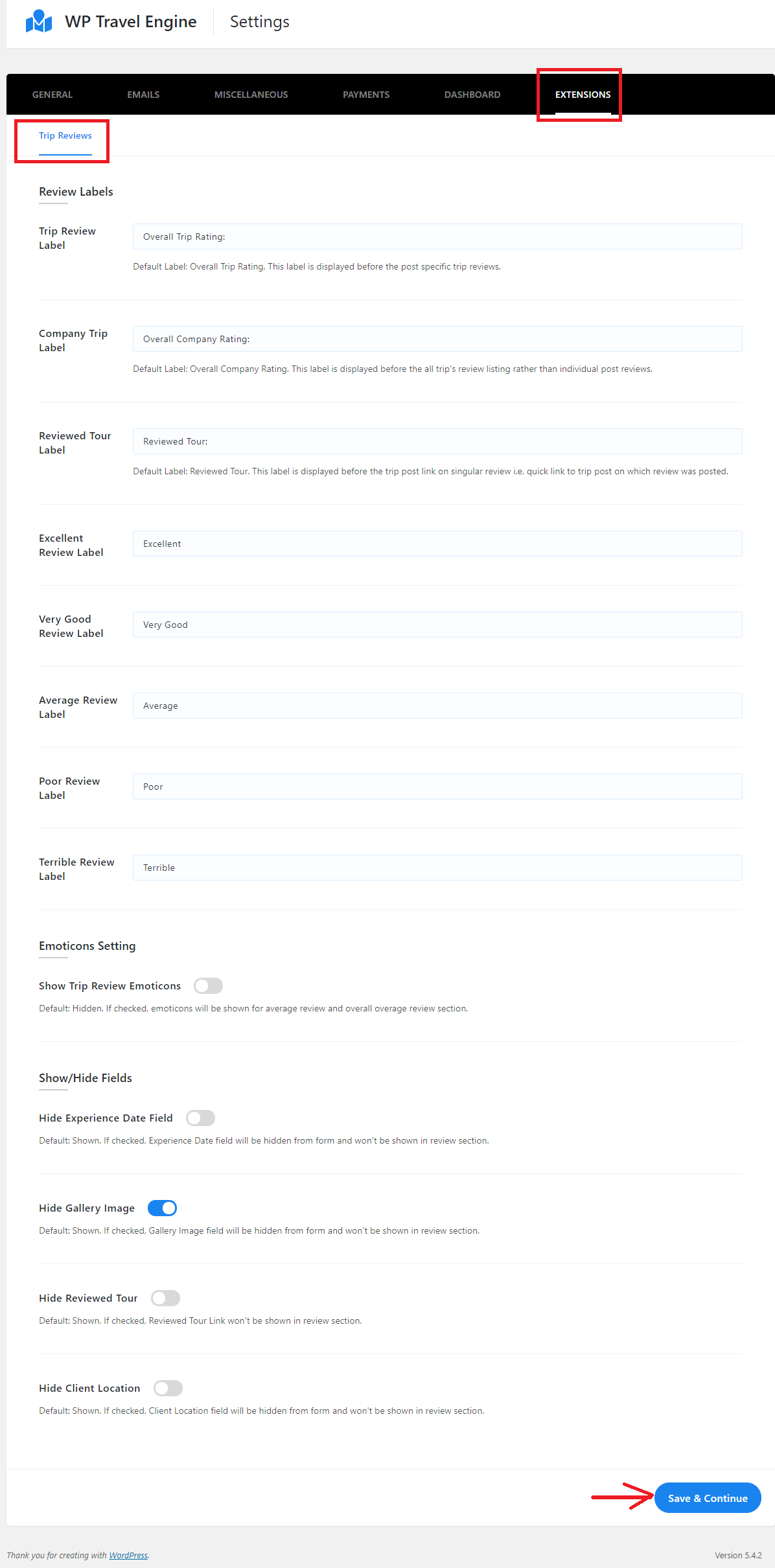 Fields description available in the Global Setting are as below.
Review Labels

Trip Review Label
Company Trip Label
Trip Review Label
Reviewed Tour Label
Excellent Review Label
Very Good Review Label
Average Review Label
Poor Review Label
Terrible Review Label

Emoticons Setting

Show Trip Review Emoticons

Show/Hide Fields

Hide Experience Date Field
Hide Gallery Image
Hide Reviewed Tour
Hide Client Location
Configure the Extension #
To configure Trip Reviews Extension, go to WP Travel engine > Trip Reviews.
Click Trip Review Form tab to add the trip reviews from your admin dashboard.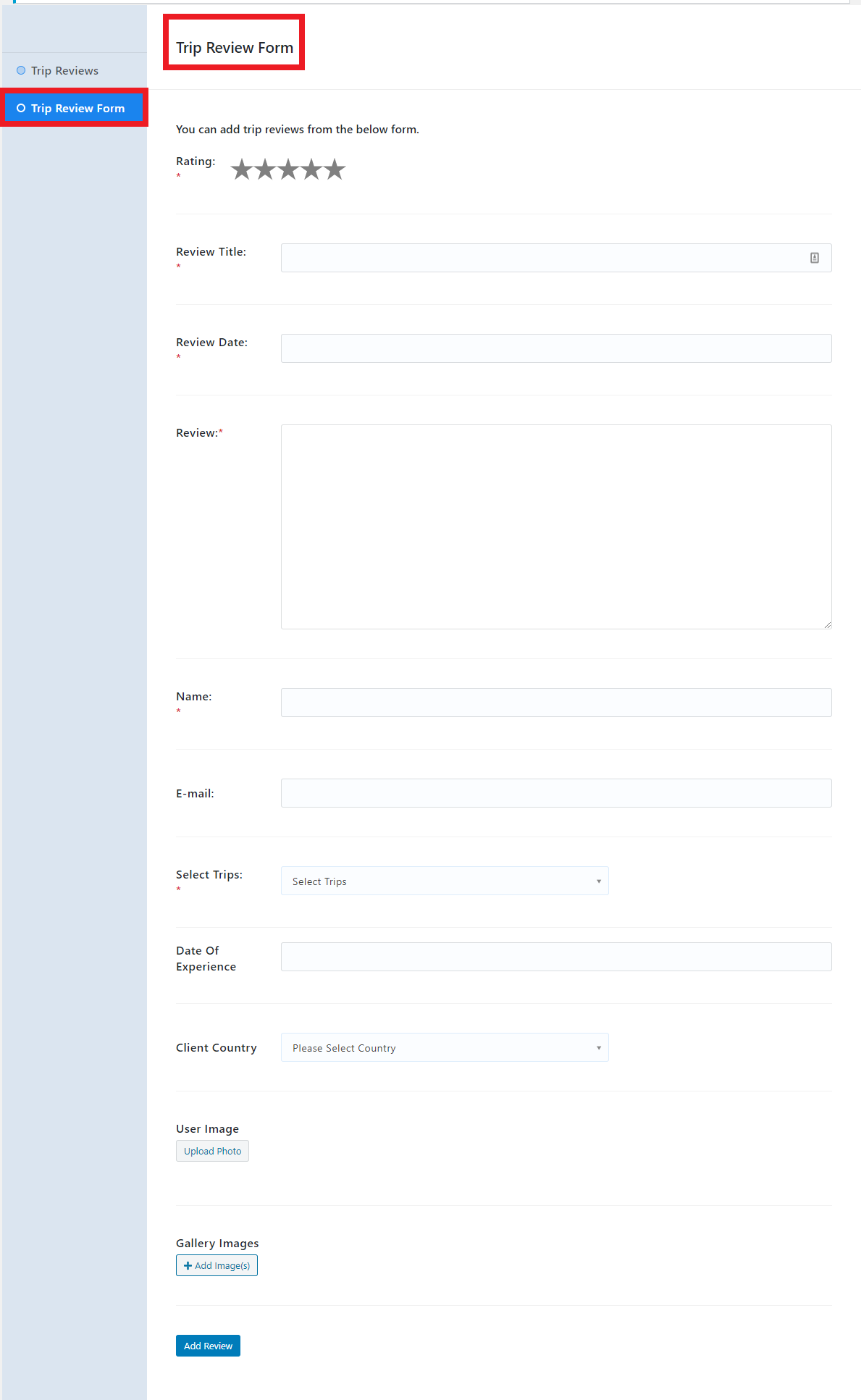 After the review submission, admin can approve or unapprove trip reviews in the Trip Reviews tab.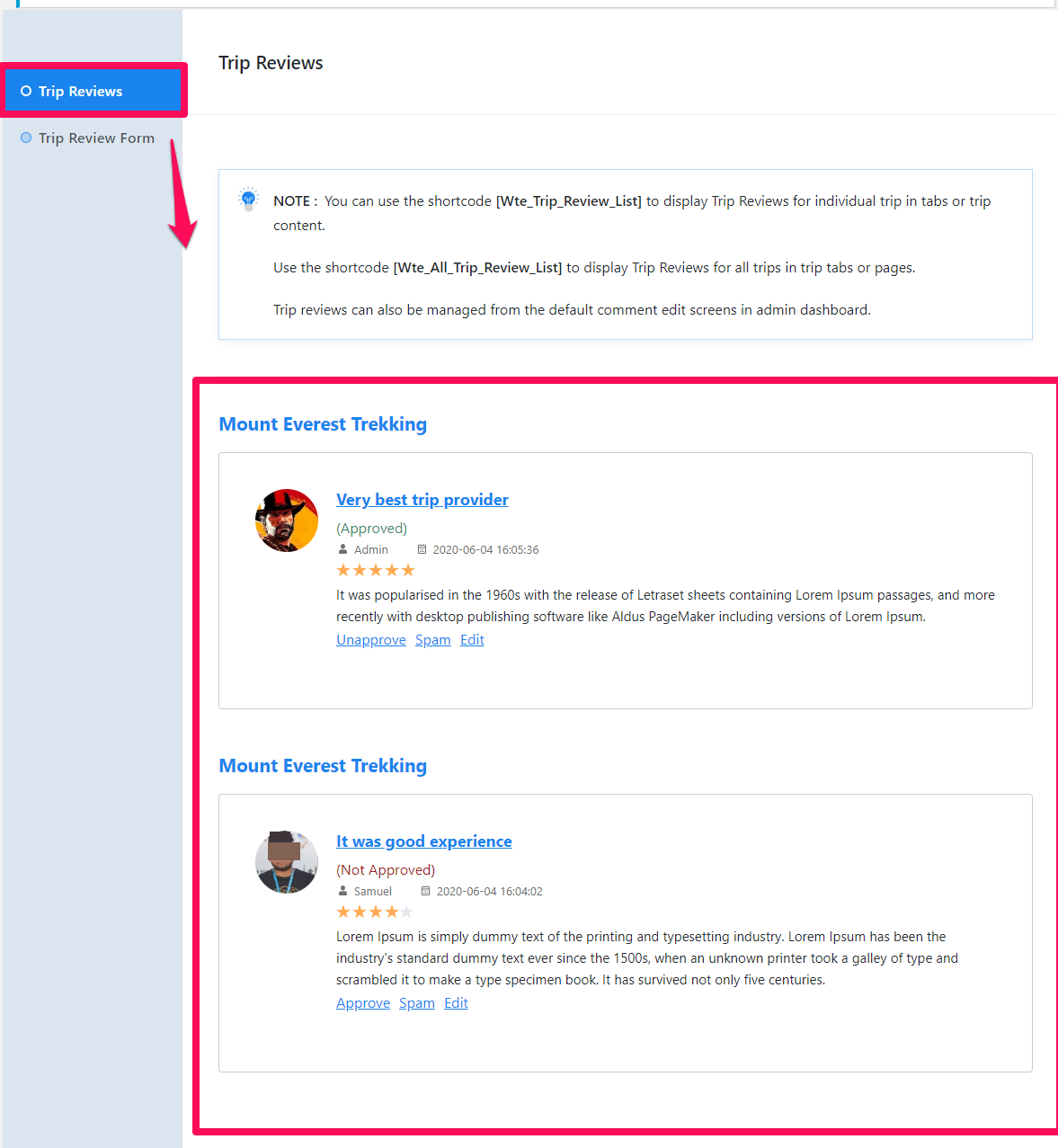 Admin can also add a review note while creating a new trip post from the Review Tab.
Travelers can fill the review form in the Review tab of individual trip posts to add reviews.
How it will look ? #
After approval, all the reviews will appear in the Review tab. Trip Reviews calculates the average ratings for a trip based on the total number of reviews.
To hide Trip Reviews, you can configure Trip Reviews Extension from Trips > Settings > Extensions and check the Hide Trip Reviews option.